Spook has put together two wonderful programs about Woody –

"Woody Guthrie – American Hero"

for children and

"The Extraordinary Songs and Stories of Woody Guthrie"

for adults.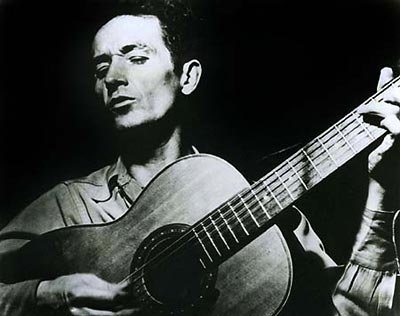 Woody Guthrie is known at the "Dust Bowl Balladeer" – America's most prolific folk songwriter of the 20th century. Woody wrote over three thousand songs that document the history, culture and concerns of 1930's, 40's and 50's America. His extraordinary songs and stories forged a path for thousand of other troubadours like Pete Seeger, Bob Dylan, Phil Ochs and so many more to follow.
Spook Handy studied under and played concerts with Pete Seeger in the last ten years of Pete's life. Woody taught scores of songs to Pete, and Pete has taught dozens of them to Spook. Spook also learned many of the stories behind the songs from Woody's autobiographic novel "Bound for Glory." These songs are highly educational, extremely fun and very sing-alongable.
An excellent program for Festivals, Libraries, Arts Centers, Churches, Schools and other meeting places.Great for the whole family or K-4 Assemblies. This program incorporates NJ Core Curriculum Standards: 1.5, 3.4, 6.1, 6.2, 6.4 and 6.6. Program Length can vary to meet your needs 45 – 90 minutes.
Ages: Children Teen Adult Family