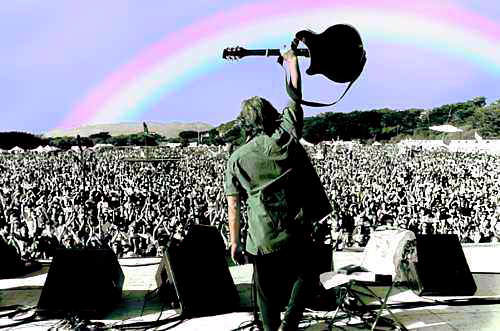 The Power of Song In American Social Movements broadly traces the history of "movement songs" from the early 1900's to present. It explores how old church songs and folk songs were developed and adapted to reflect the struggles and hopes of their times. And it explores the "folk process" that recycles and re-purposes ideas that worked in the past and still resonate today. Can you hear the influence of the ancient church song "Amen" in the civil rights anthem "If I Had a Hammer?"
When presented as a keynote lecture/concert or as a workshop, we will look at how we can write new lyrics and create new songs that address today's issues.
And perhaps most important, audiences can't help but stand up and sing out themselves as they feel the power that has shaped and continues to shape the curve of American cultural history.
An excellent program for Schools, Libraries, Arts and Cultural Centers, Festivals and for groups concerned with how song can be used to strengthen their work toward a social cause. Workshops, Q&A and Lecture/Concerts can be powerful supplements to this concert.
This program incorporates NJ Core Curriculum Standards: 1.5, 3.4, 5.1, 6.2, 6.4 and 6.6.