Spook has put together two wonderful programs about Pete – "Pete Seeger – American Hero" for children and "The Extraordinary Songs and Stories of Pete Seeger" for adults.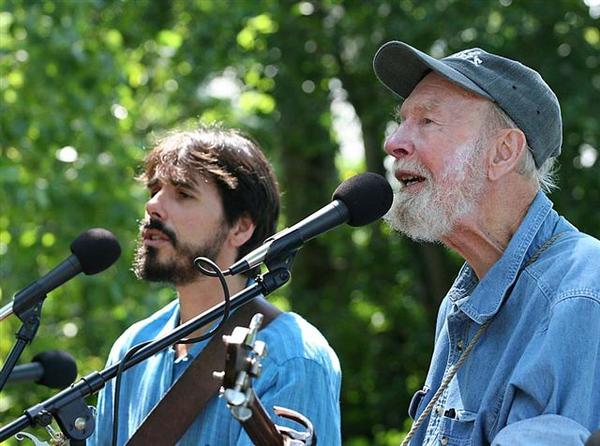 Spook had the extraordinary fortune of performing alongside Pete over 50 times at concerts and festivals from 2003 til Pete's passing in 2014. Spook learned dozens of Pete's songs, the stories behind them and much of Pete's wisdom and philosophy. Spook is now engaged in a "Remembering Pete Seeger" World Tour which will take him to all 50 U.S. States, all 13 Canadian territories a provinces and many other countries around the globe. The tour includes these two programs and his landmark Remembering Pete Seeger concert. Spook is also on track to record three new CDs – "Pete, Woody and Me" volumes 1, 2 and 3.
This program looks at the legacy, struggles, songs and stories of one of Americas most beloved folk singers – the man who gave us "If I Had a Hammer", "Where Have All the Flowers Gone", "Waist Deep in the Big Muddy" and dozens of children's songs.
An excellent program for Festivals, Libraries, Arts Centers, Churches, Schools and other meeting places. Program Length can vary to meet your needs 45 – 90 minutes.
Ages: Children Teen Adult Family