Spook provides uplifting, heart-warming, positive music with a spiritual touch at services, ceremonies, picnics and other gatherings for a wide variety of faith based groups.
"Spook's musical performance, personable style and thoughtful ideas were very well received by our congregation. His complementary focus on personal freedom and social responsibility was particularly well suited to our UU principles. He provided quite an uplifting and entertaining Sunday morning experience!"
… Ray Deeney, President, The Unitarian Society, East Brunswick, NJ
*****
Here are some programs Spook offers as services at Unitarian Universalist and other "Churches":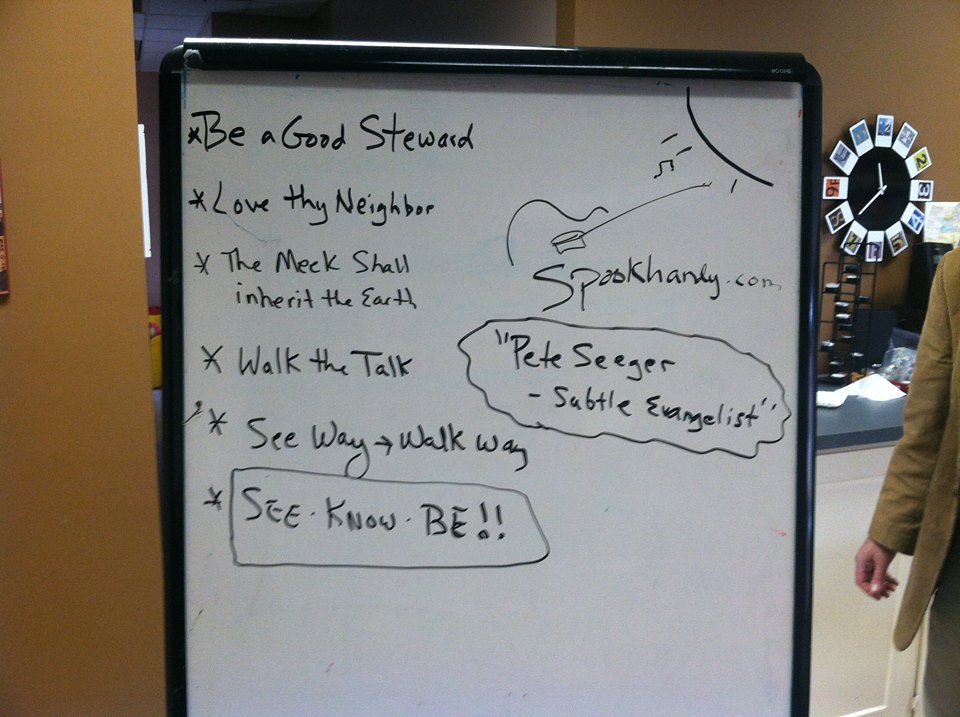 "Pete Seeger
– the Subtle Evangelist"
One of the greatest qualities I saw in Pete Seeger was how he led by example. Pete was no "preacher." He went to great lengths to be inclusive and to relate with people as an equal. A Seeger family member once told me Pete "was no atheist. But he didn't believe in talking about it." Instead, he lived the principles he so dearly believed. This service includes a healthy portion of Pete Seeger songs and a 15 – 25 minute talk about Pete Seeger – the Subtle Evangelist.
Freedom Is Your Destiny
There are as many definitions of freedom as there are people in this world. Does freedom mean avoidance of responsibility? Freedom to roam our beautiful country? What about the freedoms upon which this nation was founded? Where do political, social and spiritual freedom fit in? How do we ensure that our freedom endures?
Freedom Is Your Destiny explores these questions through engaging, uplifting songs and stories that come from both the giants of folk music – Pete Seeger, Peter Paul and Mary and Phil Ochs to name a few – and Spook's own ample supply of original compositions. The spirit of American folk music, its passion and sense of purpose, ring loud and clear in this service and its message seems more relevant today than ever.
Other services Spook offers include:
The Works of Woody Guthrie
Songs of the Civil Rights Movement
Songs of the Great Depression and Today
Passing Along the Folk Tradition
Spook also provides music and song at standard services including:
Imagine
Let's Get Together
Be Here Now (Original)
Lead Us Home to the Promised Land (original)
and many, many more
*****
"In the finest traditions of Woody Guthrie, Pete Seeger and other great American folk artists, Spook Handy reconnects us with powerful truths that lie at the core of our humanity and our Unitarian-Universalist values. With an unassuming style that nurtures the spiritual, Spook takes his audience on a journey of re-thinking fundamental concepts like freedom, tolerance, non-violence and justice. His recent "Freedom is Your Destiny" service at the Morristown Unitarian Fellowship produced smile upon smile and a flurry of accolades from our congregants. A true Unitarian-Universalist experience par excellence!"
… Steven Humphreys, Sunday Services Committee Chair, Morristown Unitarian Fellowship
"Spook's music touches the common chord of spirituality and humanity …. Everyone had a rollicking good time."
… Reverend LL DuBreuil – Pastor, First Reformed Church, United Church of Christ, Woodbridge, NJ
***** Read Review *****
Please inquire for more information.